We have a winner!
We have a winner!
4 May 2020 (by Janice Rowstron (jrowstron))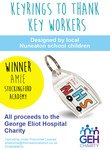 We have a winner! Well done Amie, we are very proud of you. Amie's key ring design will be produced and sold to raise money for the #GEHcharity. On top of that, Amie has won herself a prize and has won an art workshop for the school (in the future!). Well done Amie and thank you!
Thanks also to Ella Dunne. Please look out for opportunities to purchase these key rings once Ella has produced them.